The Best Battery Powered Guitar Amp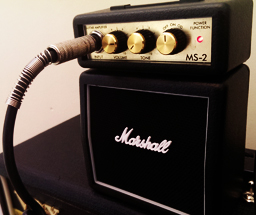 If you want to play your guitar anywhere and everywhere, a battery powered guitar amp is probably just what you are looking for. Perhaps you want to take one on holiday with you? Play it in the back of your car? Take it to the office? Maybe even go out busking with it? The possibilities are endless when you aren't relying on mains power and a roadie to lug your gear round for you.
Hang on a minute though. There are a lot of battery operated amps out there so which one do I get? A mini amp? A micro amp? An amPlug? What are all these things anyway and which is the best? Are they really any good or are they just silly little toys?
Don't worry, hopefully we can clear all this up for you a bit and help you pick a great little portable amplifier. To make your decision even easier, we have also included a list of some of the best battery powered guitar amps available today. You can skip straight to the list if you don't want to read our waffle!
Which Battery Operated Amp Should I Get?
That's a good question. As you may have gathered, there are a lot of different types available but most fall into one of two categories. Let's take a look at some of the variations.
Mini Guitar Amps
Mini amps or micro amps are probably one of the most common battery powered guitar amp out there. Most of the classic amp manufacturers usually offer a mini version of some sort or another. (Think Vox, Fender, Marshall Etc.) They range in size from around 10cm to 30cm (the bigger ones are higher powered and tend to have more features) and although they run on batteries, it is also possible to purchase an AC adaptor to power them.
An alternative to the mini amps is the headphone amp or guitar plug
Mini amps have integrated speakers, headphone jacks, limited controls such as volume, gain, tone and possibly overdrive. Obviously these aren't going to kick out the same sort of power as the larger versions on offer (probably around 1 to 3 watts) but you will be pleasantly surprised at the sounds they produce. They do look rather cool too and make the ideal gift for Christmas or Birthdays etc. One of our particular favourites is the Marshall MS2.
Guitar Headphone Amps / Guitar Plugs
An alternative to the mini amps is the headphone amp or guitar plug. Vox's amPlug is probably one of the most well-known but there a lots of other versions on offer. These nifty little things simply plug straight into your guitars output jack. Unlike the mini amps, they don't have a built in speaker so you need to use a pair of headphones. As there is no integrated speaker, these are probably one of the smallest amps you can buy (they are usually cheaper than mini amps too). A lot of these use rechargeable batteries that can be charged from the mains or a computer USB port.
So which should I buy?
You do ask a lot of questions don't you? Seriously though, in order to make that decision you need to ask yourself a few questions.
Do I need an integrated speaker?(you do if you're planning on busking)
How much power do I need?
How much do I want to spend?
Do I need effects?
Just how portable do I need it to be? (think pocket size upwards)
Do I really need a battery powered amp?
Once you have answered the above questions you should be a little closer to making your decision. You might have decided a guitar amp that runs on batteries just doesn't give you the power you need. If that's the case, a cheap little guitar amp might be right up your street. Anyway, as promised, here is our list of some of the best battery powered guitar amps on offer.
Battery Powered Guitar Amps
Did You Find One You Like?
Hopefully you found what you were looking for on our list and are ready to take your portable amp to the office and annoy your workmates! Obviously there are others available but we think our list covers some of the better quality battery amps out there today. If you didn't find what you were looking for, maybe a mains powered practice amp would suit you better?
Thanks for reading, rock on!