Amazing Gifts For Guitar Players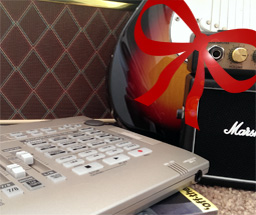 Here at 4Guitar we know just how hard it can be to find the perfect gift for the guitar player in your life (we can be a fussy bunch at the best of times). With that in mind, we've compiled a list of amazing gifts that even the finickiest guitarist will love.
Whether you're after a unique Christmas gift, the ideal birthday present, or something funny for Father's day, you're sure to find something on our list. As guitar players ourselves, we'd certainly be more than happy to receive any of these gifts.
The price range varies (roughly between £5 and £100) but most of the gifts are under £20 (the dearest present is just over £150). To make it easier for you, we've ordered the list by price (cheapest first) so the gifts get more expensive as you go along.
Guitar Phone Case
Here we have a really useful gift that any guitar player is bound to love. There are loads of different designs to choose from and some of these phone cases really do look great. They're available for most makes such as Nokia, Samsung, HTC and, of course, the various Apple iPhone models.

Personalised Silver Guitar Plectrum / Pick with Gift Box
This is a really classy and unusual personalised gift that would be perfect for any guitarist or music lover. The high quality polished stainless steel plectrum can be engraved with a message of your choice, so makes for a superb keepsake gift. If you're looking for a really unique present, look no further!

Guitarist T-Shirt
With loads of different tees to choose from, you're sure to find one your guitar player will like. Why not get them a funny slogan t-shirt? What about a branded top (Fender, Marshall, Gibson etc.)? Who's their favourite guitarist (Slash, Clapton, Hendrix)? We like the one in the picture! Click here if you want that one.

Guitar Pick Necklace (Personalised)
Similar to the personalised plectrum we listed earlier, this is actually an engraved pick on a leather necklace and is a lovely little piece of jewellery. Another really individual gift, which we would certainly be pleased to find under our tree on Christmas morning!

Guitar Clock
Do you want a novelty gift that is both great fun and also very useful? If you do, then these guitar themed clocks are probably just what you're looking for. There's a lot to choose from and they're bound to be a welcome addition to any music lover's home or office. They might not improve their time keeping when playing though!

Portable Wooden Guitar Practice Tool
This would make the perfect gift for someone who is just starting out on the guitar. It's a portable practice tool that they'll be able to take almost anywhere. It doesn't make the same sound as a guitar but really helps with chord shapes and scales. What a great idea!

Guitarist's Christmas Stocking
This is a bit different to your usual Christmas selection stocking stuffed with chocolates. The guitarist stocking is packed full of goodies for the guitar, including a clip on tuner, a set of strings, a guitar lead, a slide and much more. If you're struggling to find a unique Christmas present for a guitar lover, this is just the thing. You can't go wrong for less than £20 either.

Marshall MS2 Micro Amp
We couldn't leave this off our list now could we? If you've read our review of the Marshall MS2 you'll know we are big fans of this cracking little micro amp. They make the perfect stocking filler and are a great little addition to any guitarist's amplifier collection.

Top Quality Guitar Cleaning and Maintenance Kit
Most guitarists are really passionate about their guitars and like to keep them in top condition. This guitar care kit contains everything they need to keep their pride and joy looking and sounding great. The string cleaning stick included in this pack is pretty impressive by all accounts and is a must for all guitar players.

Clip on Tuner (TC Electronics Polytune)
We know there are clip on tuners available that are cheaper than this but the TC Electronic PolyTune Clip on Guitar Tuner is one of the best out there at the moment. It gets fantastic reviews on Amazon and is extremely fast and accurate. It also looks really cool! Even if they already own something similar, buy them this, they'll love it!

Grip Hand Guitar Hanger
If you're looking for something that little bit different, take a look at the Grip Studios Custom Guitar Grip/ Guitar Hanger. These hand shaped guitar hangers make a real talking point and are a really unique way to store guitars. They're very well made, robust and straightforward to fit. They do have a certain creepy quality about them though!

Gibson Guitar Stool
These cool guitar bar stools are sure to enhance your guitarist's practice room. They look absolutely fantastic and are really easy to assemble. Don't worry if the musician you're buying this for isn't a Gibson fan. There are plenty of other stools available from all the other big names.

Jim Dunlop The Original Cry Baby Effects Pedal
The Cry Baby wah wah pedal is one of the most famous effects pedals going. Played by the likes of Jimi Hendrix and Eric Clapton, the Cry Baby is one of the best pedals out there. As you would expect from a pedal used by some of the greats, the reviews they get are excellent. This would make an amazing gift for any guitarist.

Solid Sterling Silver Guitar Pendant
If you're looking for something a little more expensive, then this solid silver guitar pendant and necklace might be just the thing. This piece of jewellery is hand crafted and the workmanship involved is very high quality. If you don't want the Gibson Les Paul, there are lots of other lovely designs available.

Marshall MG30CFX Combo Amp
If you want to spend that bit more on your guitar player, what about this superb little combo amp? We took a closer look here and it got some very favourable reviews. It's perfect for guitarists of all levels and makes for a great little practice amp. I'm sure opening this on Christmas Day would bring a smile to their face!

Still Struggling for Gift Ideas?
We've listed some of the best gifts we could find for guitar players so hopefully you've found the ideal present in our line-up. Any of the ideas above are great whatever the occasion, whether that be a birthday, Christmas, Father's Day / Mother's Day etc. If you're still having difficulty coming up with that special gift, you might find something suitable here.