Cheap Guitar Amps - Great Sound, Small Budget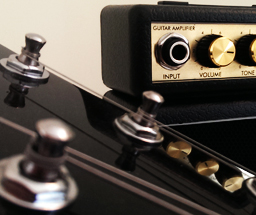 Maybe cheap is the wrong word to use here as it might imply the amplifier is of poor quality. You can certainly spend lot of money on a poor quality guitar amp. On the other hand, it is also possible to purchase a high quality amplifier that sounds great, even when you're on a tight budget. With that said, maybe we should have used the word 'affordable' instead (we won't get bogged down in semantics though).
Everybody's definition of cheap or affordable is different. Just because you have a budget of £1000 for an amp doesn't mean you should spend that amount. Maybe you should spend a bit more on the guitar or the effects pedal for example. What about if you only have £20 to spend? Well, this brings us nicely onto our next point.
How much money should I spend on a guitar amp?
As we have said, a lot of this depends on your situation and what you can afford. There isn't much point spending thousands of pounds on a high powered Marshall stack when you are only going to be practicing in your bedroom is there?
Keep it simple, don't get a cheap amp packed with effects and gadgets you won't need
Some people reckon you should spend twice as much on your amp as you did on your guitar but there is no 'one size fits all' here.
Cheap Guitar Amps For Under £100
Having established that what one person thinks is cheap, another may think is fairly expensive, let's just take a look at some of the affordable amps out there that cost less than £100 shall we? We've reviewed some of these amplifiers here at 4Guitar, so hopefully that will help with your decision. We haven't however, included any amps we wouldn't be happy purchasing ourselves.
It's all too easy to choose a budget amp with poor sound quality; here is our pick of cheap amps (under £100 at the time of writing) that still deliver on both tone and value.
Are The Amps You Have Listed Above Practice Amps?
That's another tricky question to answer. We have a whole page on this site dedicated to some of the best practice amps out there where we try to define just what a practice amp is. Basically though, if you are spending less than £100 on a relatively low powered amp, it will probably be classed as a practice amp. That isn't to say that you can't get a good gigging amp for under £100 though. If you do want to spend a bit more, take a look at our list of practice amps where you can read our review of each one. Some of these combos are listed above but others are a little more expensive so we haven't included them in our list.
Mini Amps
You will see that there are quite a few 'mini' or 'micro' amps in our list. This is because they are generally a lot less expensive than some of the bigger practice amps out there. Some of them don't have speakers though, so they can't really be used for playing gigs. They are however ideal for practicing at home. Because they are so small and portable, you can also take them almost anywhere you fancy. We here at 4Guitar are big fans of the Marshall MS2 Mini, in fact we love it!
Tube Amps For Under £100
Now believe it or not, it is actually possible to get a tube amp for less than £100, so for that very reason we have included the Behringer Bugera 15W BC15 in our list. In our opinion though, you might be better steering clear of budget tube amps and sticking with mini amps or small solid state practice amps. If you do have a bit more money available for amplification, you might want to consider the Marshall DSL5C valve amp. We took a closer look at this cracking tube combo and it gets some great reviews.
Summary
Hopefully you have found the perfect amplifier for your budget in our list of cheap amps but, if you haven't, here are a few pointers that might help you decide which budget guitar amp to go for.
Mini amps don't cost much and are great for home practice
Budget tube amps probably aren't a good idea
Keep it simple, don't get a cheap amp packed with effects and gadgets you won't need
10 watts is fine for home practice
25 watts (5 watts if it is a tube amp) or more should be ok for small gigs
Buy the amplifier that fulfils your needs
As we keep saying, the key thing to remember when buying on a budget is to purchase the amplifier that suits your situation. Don't get any unnecessary built in effects. Think about whether you really need a 30 watt amp if you are only ever going to play at home. Will a mini amp suffice?
Yes, the amplifier is as important (some would argue more so) as the guitar in determining the quality of your tone but, when you are on a budget, something's got to give. This doesn't mean that you have to sacrifice sound quality just because you don't have hundreds of pounds to spend on your set up. There are still some lovely sounding affordable amps out there.
Good luck with your search, keep on rocking!