Best Beginner Electric Guitars And Starter Packages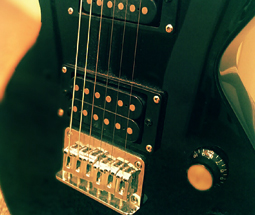 Choosing your first electric guitar can be an overwhelming experience. Thereís lots of choice out there and making a final decision can be extremely difficult.
Donít worry though, weíre here to help you make an informed choice and hopefully youíll purchase a guitar that will keep you happy for years to come.
Where To Start?
First you need to decide how much you want to spend on your starter guitar. We wouldnít recommend paying a fortune for your first electric guitar. Itís perfectly possible to get a decent model for a relatively low price. Bear in mind, budget guitars can start out at around £60, whereas a top of the range model could cost you thousands.
Itís also worth remembering that youíll also need to buy guitar leads and a cheap little guitar amplifier. There are some nice guitar starter packages that come with these accessories included, but this isnít always the case.
You could opt to purchase a top of the range instrument in the first place, but we wouldnít recommend you do this.
So, what is the best beginner electric guitar? Well, hopefully we're going to answer this question by taking a closer look at a few of the best starter guitars and package bundles available for under £200. We think spending more than this when youíre a novice isnít really necessary.
Our Pick Of The Best Electric Guitars For Beginners (2017)
Squier Bullet Fat Strat RW
We start our selection with a name synonymous with electric guitars. Fender have been making guitars for over 60 years and the iconic Stratocaster design is probably what most people think of when they picture an electric guitar.
Squier is the budget arm of Fender and the guitars are built with slightly cheaper materials. This shouldnít put you off though, as they are still well built guitars, perfect for the beginner.
Pros
Perfect guitar for a beginner
Great value for money
Good quality sound for the price
Easy to play
Famous make
Cons
Doesnít sound as good as an original Fender
Materials are adequate but not high quality
Not as robust as a Fender Strat
For the price, you canít really go wrong with a Squier. If you want a great sounding guitar thatís easy to play, this is the perfect choice.

Yamaha Pacifica 012
The Pacifica range from Yamaha comes highly recommended for novice guitarists. The 012 is one of the cheaper offerings but still offers good value for money.
It looks very similar to a classic strat in that it has a double cutaway design. The guitar is very versatile and is suited to various types of music whether that be country, blues, rock or heavy metal.
Pros
Great tone
Good brand
Durable construction
Reliable
Very versatile
Cons
Not as high quality as the 112 model
Quality control not always great
This electric guitar is very similar to the Squier and there isnít much to choose between them. They are both great looking starter guitars, which offer good sound quality and value for money.

Epiphone Les Paul Special II
Here we have another big name in guitars. Epiphone is a subsidiary of Gibson and, like Squier, the guitars tend to be on the cheaper side. They are still great instruments though and the Les Paul Special is a more affordable version of the standard Les Paul.
Being slightly smaller and lighter than a standard, the Epiphone Special is a great guitar for beginners who want something a bit different to the Stratocaster shape.
Pros
Great tone
Great value
Humbucking pickups
Classic design
Playability is excellent
Cons
Frets can be uneven
Action a bit high
If youíre after that humbucking Les Paul tone and classic styling at a fraction of the cost of a Gibson Les Paul Standard, this is a great guitar to get started with.

Johnny Brook JB401 Full Size Sunburst Complete Electric Guitar with 15 W Amplifier and Tuner Starter Package
Electric guitar starter packages are a great way to get into playing guitar if youíre on a budget. As well as getting a guitar, this pack also comes with a gig bag, tuner, amplifier and strap. Thereís everything you need to get started.
Obviously the quality isnít going to be fantastic but, as we said earlier, thereís no point spending a fortune. The guitar is based on the Fender Stratocaster design and most of the reviews on Amazon are good.
Pros
Comes with everything you need
Highly affordable
Looks great
Ideal for beginners
Cons
Can go out of tune easily
Doesn't use very high quality materials
If you want to learn electric guitar without the hassle and cost of purchasing everything separately, this beginnerís kit is a great way to get going.

RockJam Full Size Electric Guitar Superkit - Black
This is another starter bundle similar to the one we mentioned before, except this guitar comes in black. Itís another popular package thatís great for someone making their first foray into guitar playing.
This kit comes with an amp, strings, tuner, strap, case and cable. Again, this isnít the best quality guitar out there but itís perfectly adequate for someone just wanting an introduction to playing.
Pros
Comes with lots of extras
Great value
Looks great
Good starter kit
Cons
Action a bit high
Doesn't use very high quality materials
All these starter kits are great as a taster to playing but, if youíre serious about learning the electric guitar, youíll probably want to upgrade after about a year or so.

Summary
The electric guitars weíve listed are all great for beginners and you wonít go far wrong with any of them. The packages are probably best as entry level guitars whereas the Squier, Epiphone and Yamaha are ideal for both starter and intermediate players.
You could opt to purchase a top of the range instrument in the first place, but we wouldnít recommend you do this. Either start out with a package or purchase one of the stand-alone guitars and buy a separate practice amplifier. Then, once youíre serious about the instrument and are ready to take it to the next level, purchase a higher end model.
If the guitars we've listed don't appeal to you, there are plenty more low cost models available here. Either way, we hope you find what you're looking for to kick start your guitar playing journey.